High End Hyvinkää 5.- 6.10.2013

Keijo Tanskanen

Foreword

High End Hyvinkää is so far the most remarkable event in Finland, no question about that. The event arrangements are done by Ataria Oy and naturally also by all presenters. The biggest thanks for all of them! I think it is very important to hold on this tradition if we keep on trying to deliver high quality enlightment of high end audio for enthusiasts. Otherwise, the sources of information and experiences will become too narrow.
The two-day event managed to get 500 visitors, which is quite a good result in Finland, but satisfy the presenters only partially. Probably advertising needs to be sharpened and widened! The Hotel Rantasipi is quite an average environment for this kind of event. The rooms are quite disassembled and only a few of them have some acoustic treatments. Despite of that, the listening results were quite good on the whole. This proves the good skills and hard work of presenters.
Once again, I made the trip with my very experienced colleague. So, there were two pairs of ears and two opinions behind the sonic evaluations. In this report, I will concentrate on the best setups which we met on the show. The specific lists of the equipment will be missing this time, sorry for that. Instead, some more generic equipment and sonic descriptions were done.

The challeger rooms

The best price/quality speaker demonstration was actually held in the Harrin Kaiutin room, though the sound quality could not quite compete with the very best ones of the show (naturally!). The cheap P18s were fed by quite expensive and very high quality electronics (ASR and Ayre) ? at least, there were no remarkable "bottle necks" in the front end.
Sound Factor had a room which was treated acoustically quite heavily. Perhaps because of this, the system, including Avantgarde Uno Fino speakers, seemed to be slightly too forgiving. There was also a remarkable difference whether we were seated in front seats or in back seats. In front, the listening results were better, but still we expected to have more mercilessness and openness from the system. Afterwards, we thought that the speakers would have presented better in less dampened acoustics when the lows and highs had been more prominent.
Marek Sound created a good demo as well. Tannoy DC10A speakers delivered very good sound when they were fed by T+A-electronics. We thought that this was quite near the best what we had heard from Tannoy speakers in Finnish audio events. Even my colleague, whose preferences lie strongly on the impressiveness, liked the presentation.

The very best rooms

The Ataria room delivered a very good presentation this time. The new Fischer & Fischer SN 570 speakers driven by MBL electronics worked very well on the spot. The sound was open and very well in balance. Additionally, the dynamic parts of music flowed effortlessly -- even with high volumes. Unfortunately, the listening results degraded remarkably outside of the sweet spot area. On the whole, this room and setup seemed to be on the top of our qualification.
Audio Pori had two setups in their room and continued their well known presentation style, which I like a lot. We listened only to the bigger setup, which consisted of big Ascendo M/S speakers fed by ASR Emitter II amplifier and Brinkmann vinyl player (I had listened to Voxativ speakers with the same kind of electronics before and my colleague was not interested in them). The demonstrator, Mr. Pekka Ylitalo, fulfilled humbly my wish of Deep Purple's Maybe I'm a Leo and adjusted the level of volume, well, high enough. Although the music was played loudly in the very challenging room, the sound was very live-like and still listenable. After couple of other music samples, we left the room with good feelings.
Hifihuone had brought the very new Marten Duke 2 speakers into their room. They worked very well with the VTL amplifier and Moon CD-player. The sound was coherent, tonally well in balance and also reproduced a nice but dimensionally slightly limited sonic picture. In this room, we had good listening experiences, nice talks and bought a couple of records as well. Excellent work done by Hifihuone!
Hifiklinikka demoed Verity Audio Finn speakers, Conrad Johnson electronics and Oracle Paris vinyl player, just as they have done in the previous events (why to change a good concept). The listening results were also just as good as last time! The music reproduction was vivid, transparent and fast. Naturally, the room was terrible acoustically, but it did not destroy the whole listening experience at all.

The photos of the show:

Ataria's setup



"Audio Pori's setup"



"Hifihuone's setup"



Sound Factor's setup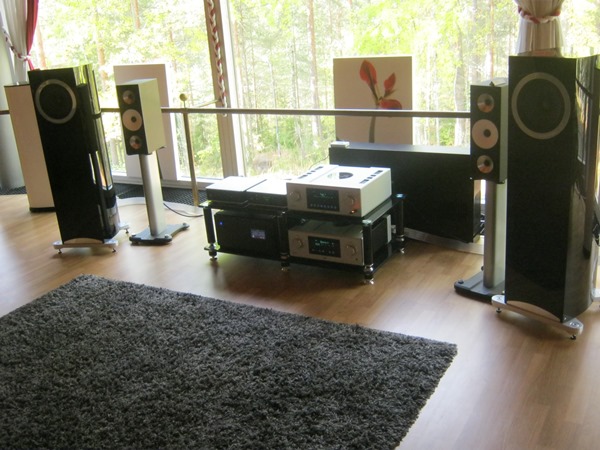 Marek Sound's setup



Hifiklinikka's setup



Harrin Kaiutin's setup



AH Hifisystems' setup



Hifimesta's setup



Solaudio's setup



Upload Audio's setup - can you see where it is?!



Audiokauppa's setup



Existence Loudspeakers' setup



Penaudio & Apoll Acoustics & Graditech setup