High End Helsinki 2017
By Keijo Tanskanen
Foreword
High End Helsinki 2017 continued the tradition of the Finnish high fidelity events in Helsinki. As you may have read from my last event reports, the last years have been quite poor in the manner of both quantity and quality. Fortunately, the arrangers have learned their lessons and have improved their concept, which actually seems to be getting more back to the roots than finding very new ideas. The greatest thanks go to Mr. Teppo Hirvikunnas who was the organizer of the event!
This event was held in a traditional hotel environment, mostly at the same time as Habitare and Antique events, and also just besides them. This method was used a couple of times in the past years already, and is actually a good way having more people on the place. However, the three hours, which I spent in the event, were quite peaceful and not a hint of rush hours was experienced. There were plenty of people, but somehow they spread over the area very well.
In my calculations there were 25 rooms, hotel and conference ones, where the audio (in some rooms also video) systems were demonstrated. Additionally, there were approximately 20 stands for advertising and more minimalistic demoing. Many of those stands concentrated on the high quality headphones, probably more than ever in Finland so far. For me, this era of enthusiasm is marginal, but for some others it is not. So, it was absolutely a good addition.
Sound notifications
The combined Audelec/Hifimesta/REL room delivered smooth performance without any trials to exaggerate some specific features. Naturally, the results should be good, just because of the quality of the equipment. Demoed was Audiovector SR6 Avantgarde Arrete speakers and REL G1 subwoofer which were fed by Linn Klimax DSM, Melco hard drive and Nuvista 600 integrated amplifier. Cabling was from Chord and Isotek Sigma S cared about power filtering. Great stuff and great sound!


Audelec-Hifimesta-REL room
Audiokauppa's room delivered quite impressive and big sound which was well organized also in the manner of sound staging. Lately all the Kef demoes, which I have met, have been successful. This was not an exeption. Good job!


Audiokauppa's setup
The Marten speakers demo in the Hifihuone room suffered from the room acoustics and the form of the room probably more than average. Because of this, there were problems outside the sweet spot. However, near the spot, things were much better. The equipment was first class: Marten Mingus Quintet speakers fed by McIntosh front end which was complemented by MSB The Analog DAC, Jorma Design Unity cabling, Kimber Orchid AES/EBU and Nordost power products.


Hifihuone's first setup
The Focal speakers demo in the Kruunuradio room was very good at least in the position where was. Although I got only quite faste take on this setup, the resuts became clear. Definetely, good sound was delivered! Actually, I rarely have disliked Focal speakers demoes.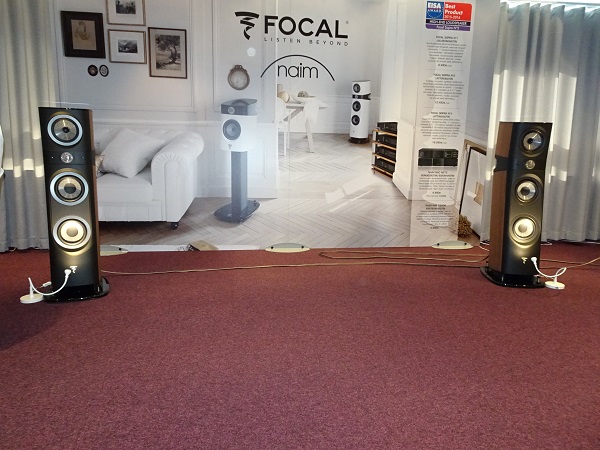 Kruunuradio's setup
Musiikin.com room had slight problems in bass, but also in lower highs, surprisingly. After a careful speaker positioning the listening results got much better. Naturally, the room modes could not be eliminated in this way, but the process showed that a speaker location has a crucial significance. The potential of the setup was easily recognized!


Musiikin.com's setup
Last but not least, Taipuu Speakers room offered extensive, well balanced and dynamic sound, which however was not quite as resolving, shimmering and open as was advertised. Nevertheless, presentation was quite impressive and reminded a lot of a couple of good PA-like setups which I have experienced.


Taipuu speakers' setup
Conclusion
For sure, the event was one of the good ones, sonically and constructionally. The sonics were mostly good, although the rooms were challenging, forcedly once again. However, the results were not homogenous and some setups did better than the others, as usual. For example Yamaha Disklavier Enspire system (Yamaha piano combined with the Music Cast system) was represented first time here in Finland, but the room lacked a proper possibility to sit and listen to. This might, at least partially, have led into too ordinary listening experiences. Neither did I get any specific kicks from this presentation. Another slight disappointment for me was Mareksound's Avantgarde demo. I strongly think that Mareksound has managed to do better demoes in the previous events.
In my opinion, the best demoes were done by Audelec/Hifimesta/REL, Audiokauppa, Hifihuone, Kruunuradio, Musiikin.com, Stars and Stripes and Taipuu Speakers, in an alphabetic order.



Aurelia Speaker's setup


Mareksound's setup


Silene Audio's setup


Stars and Stripes' setup


Yamaha music's setup

Hopefully, High End Helsinki will be continued in upcoming years. The restart was good and can be even bettered, especially if the coverage of demonstrators can be enlarged. Thanks to all the hosts!